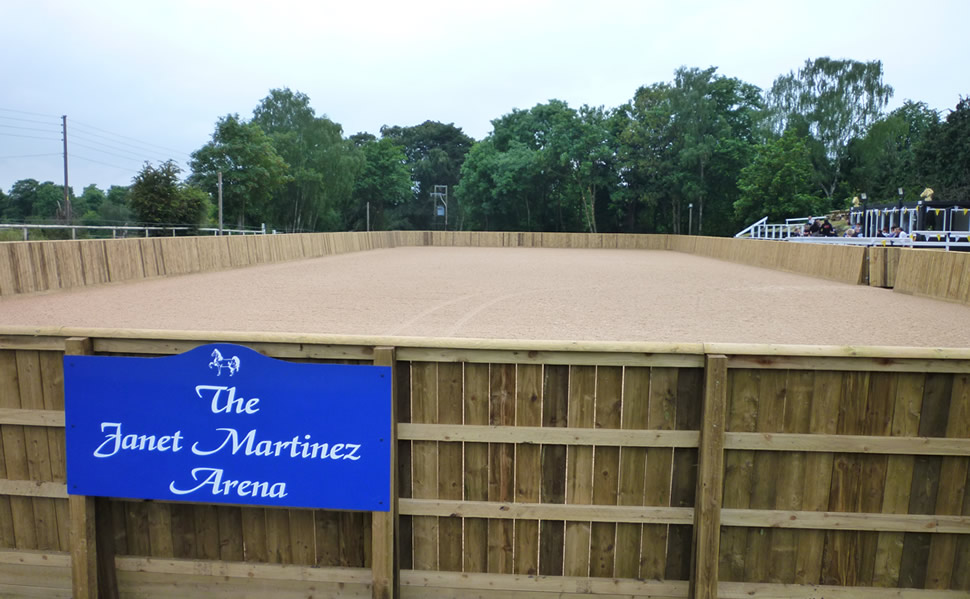 The Janet Martinez Arena
Constructed in June 2016, replacing the old sand ménage, the new 90m x 30m arena, finished with boarded fencing, is laid with the Andrews Bowen ProWax surface meaning this truly is an all weather arena.  Overlooking the arena is a pavilion and seated area where spectators can observe the arena and part of the gallops.  The arena and warm up arena can be hired out for private and competition use.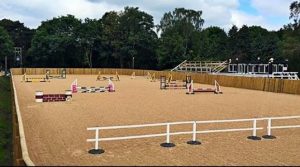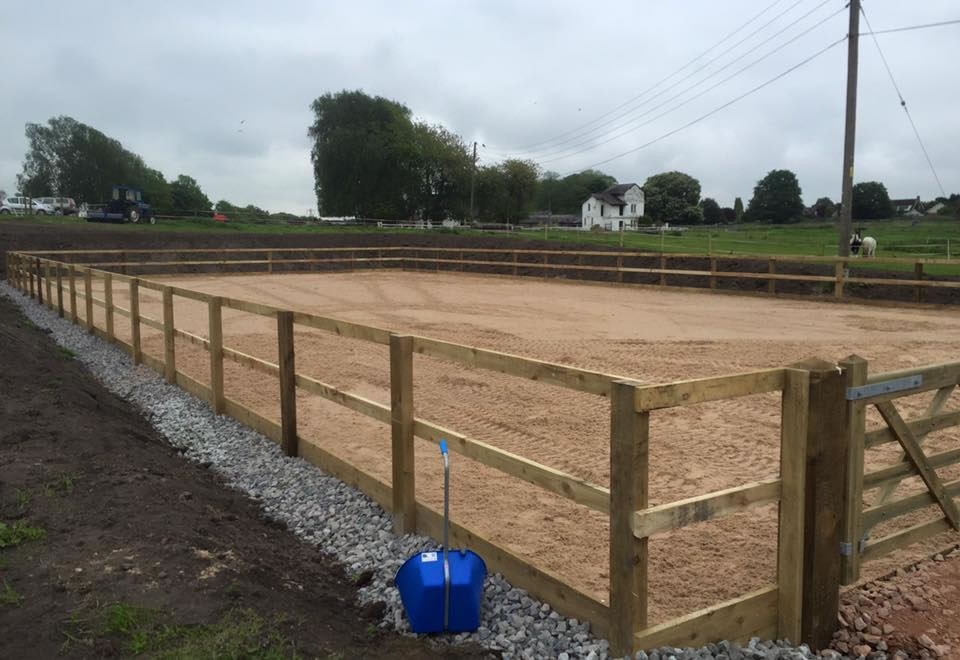 Warm up Arena
A smaller warm up arena, used for young riders as well as competition warm up, situated across the gallops is also laid with the Andrews Bowen ProWax surface.
Cross Country
The cross-country course is fully open, weather permitting. Lessons are available on the course, or you can get together with some friends and hire it out. Regular competitions take place for both more experienced riders and advanced riders during the summer, where rosettes and trophies can be won. There are over thirty jumps, with two derby banks.
Show Jumping
Show jumps are situated in the arenas and fields. They are regularly used in the lessons to encourage variety. The jumps are used in conjunction at times with the cross-country course to act as a mini event, points are gained and rosettes handed out.  The jumps can be hired out for private and competition use.


The Gallops!
The gallops are a safe and well- maintained area for blowing the cobwebs out of your horse, or excellent for beginners who want to go for a short ride in the safety of them. They can be used when the roads are too icy, or if your horse is convalescing. The surface is well drained ensuring the going is not too soft or hard. The gallops have some of the easier cross-country jumps alongside, you can just ride onto the grass and pop over one.
Hacking
The horses used are excellent and well behaved on the roads. The two -hour hack is the most popular with our current riders. A short walk down the road and we have access to many bridle-paths.
The two hour hack incorporates a few optional natural obstacles and a lovely stream for riding in.
The three -hour hack can get you to Kenilworth Castle, lovely on a summers' day.
If possible bring riding clothes with you.

If not, trousers, waterproofs and wellingtons will be necessary. All riders must wear an approved riding hat. Please bring a riding hat if possible. We do have a range to use, although we prefer you to use your own fitted hat

Our facilities include over sixty acres of open ground and woodland to ride in, offering a variety of interest for beginners and experienced riders alike. There is an all weather sand ménage, jumping area and a cross-country course.